The Latest Palo Alto Networks News

Product and Solution Information, Press Releases, Announcements
Prisma Access Is the Leading Cloud Service to Secure Remote Users
---

The way in which we interact with people and how we work was drastically altered in 2020, and we've had to establish a new normal. Microsoft recently released a list of apps in the Azure AD app gallery that made the most impact in 2020 by enabling organizations to stay productive during the pandemic. We are excited that Prisma Access by Palo Alto Networks was the leading cloud-delivered security app by monthly active users, as well as by number of organizations.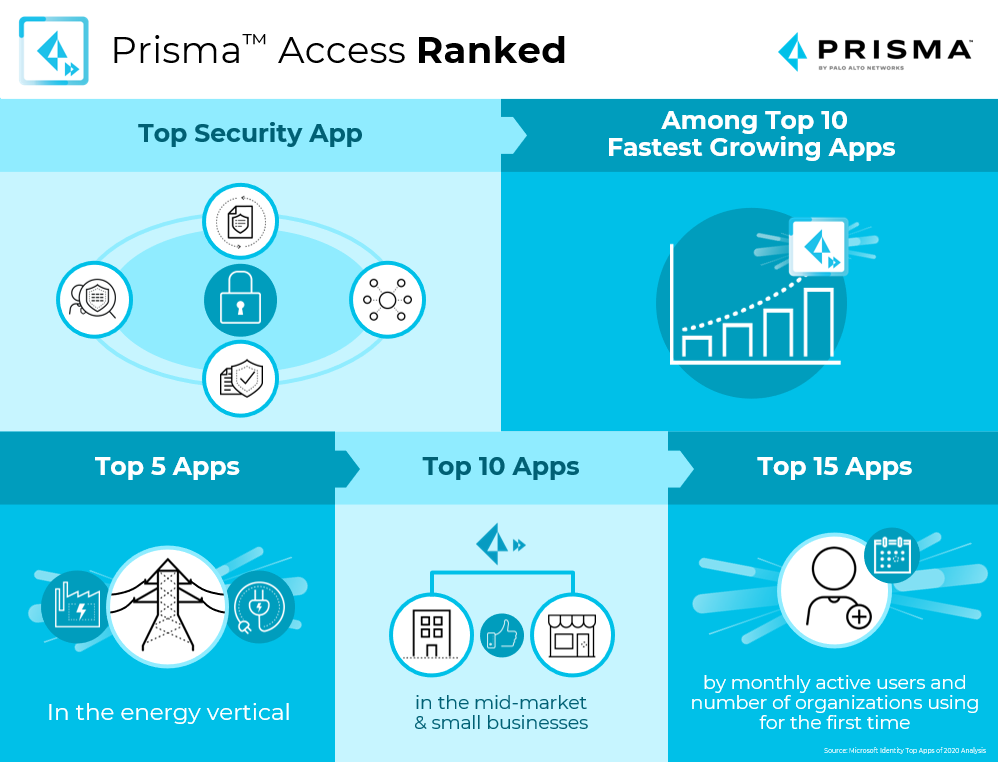 We believe remote working is the new normal and remote users should have secure access to all apps, have a great user experience and enjoy uncompromising performance. To achieve this, organizations have to rethink their network and security architecture and move towards a Zero Trust approach, with the best security delivered via the cloud everywhere. That is exactly what Prisma Access was built for. As the industry's most complete cloud-delivered security platform, Prisma Access delivers networking and security from a single platform, protecting users and apps no matter where they are located. Organizations of any size can benefit from these Prisma Access capabilities, like Schlumberger – the company went from 25,000 to 80,000 remote users in a matter of days when the pandemic first hit.
The top reasons customers love Prisma Access over legacy proxy vendors are:
Prisma Access protects all app traffic – Users can gain access to all apps with a Zero Trust Network Access approach, while organizations can ensure they are secure against all threats, not just web-based apps and threats. Palo Alto Networks analyzed the threat data from more than 500 enterprise customers and found that 53% of all remote workforce threats are for non-web apps, which web proxy-based solutions can't prevent. In fact, Prisma Access helps decrease the likelihood of a data breach by 45%.
Prisma Access delivers complete best-in-class security – Integrated threat prevention, web filtering, secure web gateway (SWG), firewall as a service (FWaaS), cloud access security broker (CASB) and more converge into a single cloud-delivered platform with 4.3M security updates per day, allowing organizations to rest assured their users and data are secure.
And all those while ensuring exceptional user experience – With a massively scalable network with ultra-low latency, organizations can provide the best digital experience for their end users. Prisma Access delivers 10x more network throughput per tunnel for a faster remote access connection, plus 10x better performance SLA than other security vendors.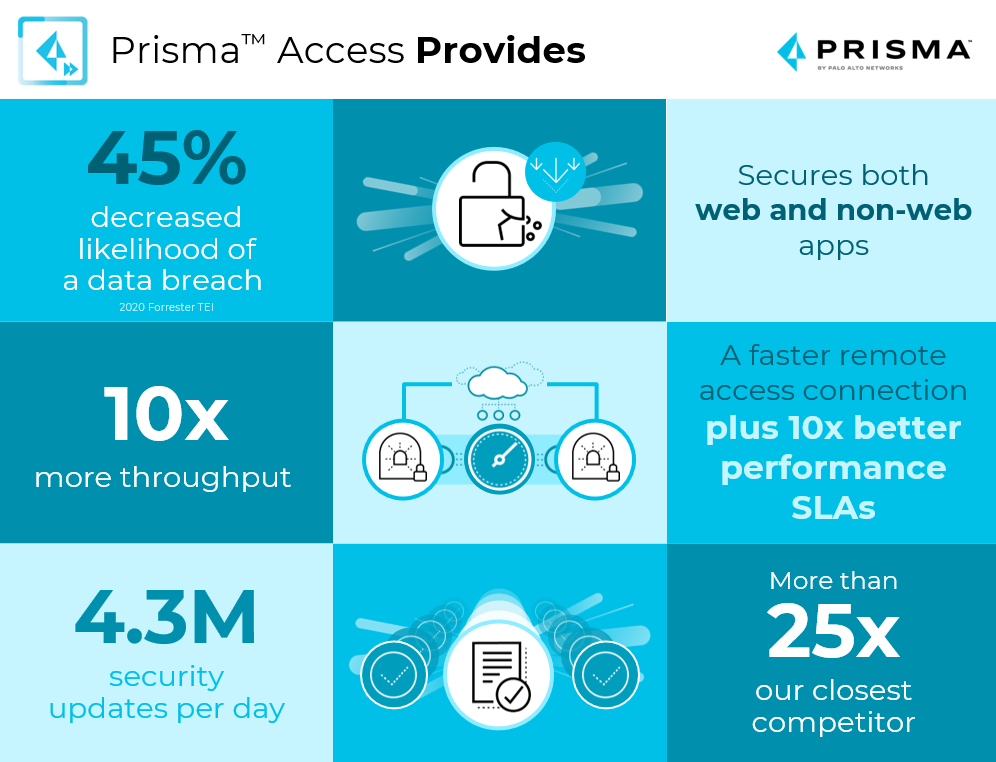 At Palo Alto Networks, we are strong believers that the way we work will change. Businesses need to be more flexible as worker's needs evolve. Together with other top companies, we created a coalition to introduce FLEXWORK, to focus on the future of work and accelerate the development of new employee-centric work practices around employee choice and flexibility.
To deliver a secure employee experience, real-time security combined with guaranteed, cloud-delivered access to users everywhere is needed. We believe Palo Alto Networks has built the architecture needed to support remote working for our clients and it's rewarding to see them accelerate their network and digital transformation. We plan to continue to invest in this new way of working.
Embrace remote working with Palo Alto Networks Prisma Access and get peace of mind that your data, apps and users are secure. Learn how Prisma Access can enable cloud-delivered security for organizations, from large enterprise to small shops.
Amit Singh is president of Palo Alto Networks.