Palo Alto Networks PA-5430
ML-Powered NextGeneration Firewall (NGFW)
Secure high-speed data centers and service providers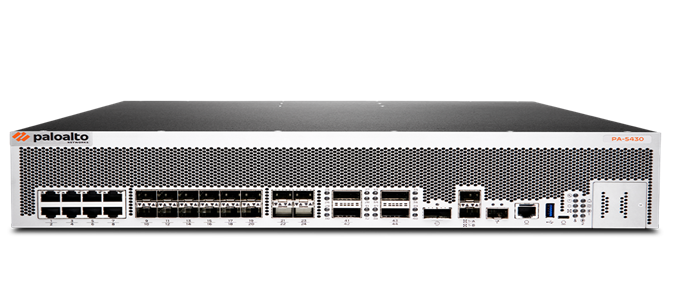 Looking for sizing recommendation? Take our Firewall Sizing Survey
Please Note: We cannot provide sizing recommendations for Palo Alto firewalls being deployed outside of the United States. Palo Alto firewalls are only available for
licensed businesses (not home users). Palo Alto firewalls cannot be sold outside of the United States excluding Canada. 1 Year minimum of Partner Enabled Backline Support is required for all new Palo Alto firewall purchases
Palo Alto Networks Products
Click here to jump to more pricing!
Overview:
Palo Alto Networks PA-5400 Series ML-Powered NGFWs—comprising the PA-5430, PA-5420, and PA-5410—are ideal for high-speed data center, internet gateway, and service provider deployments. The PA-5400 Series appliances secure all traffic, including encrypted traffic.
The world's first ML-Powered Next-Generation Firewall (NGFW) enables you to prevent unknown threats, see and secure everything—including the Internet of Things (IoT)— and reduce errors with automatic policy recommendations.
The controlling element of the PA-5400 Series is PAN-OS®, the same software that runs all Palo Alto Networks NGFWs. PAN-OS natively classifies all traffic, inclusive of applications, threats, and content, and then ties that traffic to the user regardless of location or device type. The application, content, and user—in other words, the elements that run your business—then serve as the basis of your security policies, resulting in improved security posture and reduced incident response time.
The PA-5410, PA-5420, and PA-5430 firewalls provide flexibility in performance and redundancy to adapt to your deployment requirements. These models can use either AC or DC power. Dedicated computing and hardware resources ensure predictable performance in networking, security, signature matching, and management functions.
Highlights
World's first ML-Powered NGFW.
10-time Leader in the Gartner Magic Quadrant™ for Network Firewalls.
Leader in the Forrester Wave™: Enterprise Firewalls, Q3 2020.
Highest Security Effectiveness score in the 2019 NSS Labs NGFW Test Report, with 100% of evasions blocked.
Delivers 5G-native security built to safeguard service provider and enterprise 5G transformation and multi-access edge computing (MEC).
Extends visibility and security to all devices, including unmanaged IoT devices, without the need to deploy additional sensors.
Supports high availability with active/ active and active/passive modes.
Delivers predictable performance with security services.
Supports centralized administration with Panorama™ network security management.
---
ML-Powered Next-Generation Firewall
Embeds machine learning (ML) in the core of the firewall to provide inline signatureless attack prevention for file- based attacks while identifying and immediately stopping never-before-seen phishing attempts.
Leverages cloud-based ML processes to push zero-delay signatures and instructions back to the NGFW.
Uses behavioral analysis to detect IoT devices and make policy recommendations as part of a cloud-delivered and natively integrated service on the NGFW.
Automates policy recommendations that save time and reduce the chance of human error.
Detects and Prevents Advanced Threats with Cloud-Delivered Security Services
Today's sophisticated cyberattacks can spawn 45,000 variants in 30 minutes using multiple threat vectors and advanced techniques to deliver malicious payloads. Traditional siloed security causes challenges for organizations by introducing security gaps, increasing overhead for security teams, and hindering business productivity with inconsistent access and visibility.
Seamlessly integrated with our industry-leading NGFWs, our Cloud-Delivered Security Services use the network effect of 80,000 customers to instantly coordinate intelligence and protect against all threats across all vectors. Eliminate coverage gaps across your locations and take advantage of best‑in-class security delivered consistently in a platform to stay safe from even the most advanced and evasive threats.
Services Include:
Threat Prevention — Disrupts threats at every stage of the attack lifecycle, with the industry's leading intrusion prevention system (IPS) with the highest security efficacy.
Advanced Threat Prevention — Extends the industry's best-in-class IPS to block up to 50% more previously unknown evasive command-and-control traffic inline with unique deep learning and machine learning models.
WildFire® malware prevention service — Ensures files are safe by automatically detecting and preventing unknown malware with industry-leading cloud-based analysis.
Advanced URL Filtering — Enables the safe use of the internet by preventing access to known and new malicious websites before your users can visit them.
DNS Security — Disrupts attacks that use DNS for command and control and data theft without requiring any changes to your infrastructure.
IoT Security — Provides the industry's most comprehensive IoT security solution, delivering ML-powered visibility, prevention, and enforcement in a single platform.
Enterprise DLP — Minimizes data breach risks by identifying sensitive data consistently throughout the entire enterprise and preventing unsafe transfers and corporate policy violations.
SaaS Security — Next-Generation cloud access security broker (CASB) sees and secures all SaaS applications automatically, ensuring you stay ahead of the app explosion.
Pricing Notes:
Pricing subject to change without notice.
Pricing is based on approved deal registration
We cannot provide sizing recommendations for Palo Alto firewalls being deployed outside of the United States.
Palo Alto firewalls are only available for licensed businesses (not home users). Palo Alto firewalls cannot be sold outside of the United States excluding Canada. 1 Year minimum of Partner Enabled Backline Support is required for all new Palo Alto firewall purchases
Palo Alto Networks Products