Palo Alto Networks Business Products and Solutions

Enterprise Security Platforms

Enterprise Security
Prevent attacks with the industry-leading network security suite and NGFW, while consistently securing users, applications, and data, no matter where they reside.

Cloud Security
Secure your journey to the cloud by providing the most comprehensive cloud security in the industry, protecting users, applications, and data.
---
New Products
The world's first ML-Powered Next-Generation Firewall (NGFW) enables you to prevent unknown threats, see and secure everything—including the Internet of Things (IoT)—and reduce errors with automatic policy recommendations.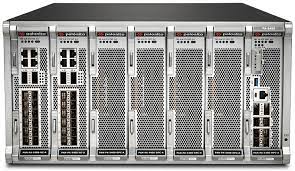 The PA-5450 is powered by a scalable architecture for the purposes of applying the appropriate type and volume of processing power to the key functional tasks of networking, security, and management. The device is managed as a single unified system, enabling you to easily direct all available resources to protect your data.
Next-Generation Firewall Appliances

500 Mbps firewall throughput (App-ID enabled)
150 Mbps threat prevention throughput
100 Mbps IPSec VPN throughput
64,000 max sessions
4,200 new sessions per second
250 IPSec VPN tunnels/tunnel interfaces
3 virtual routers
15 security zones
250 max number of policies

500 Mbps firewall throughput1
150 Mbps Threat Prevention throughput2
100 Mbps IPsec VPN throughput
64,000 max sessions
4,200 new sessions per second3
1,000 IPsec VPN tunnels/tunnel interfaces
3 virtual routers
15 security zones
250 max number of policies

940 Mbps firewall throughput (App-ID enabled)
610 Mbps threat prevention throughput
400 Mbps IPSec VPN throughput
128,000 max sessions
8,300 new sessions per second
1000 IPSec VPN tunnels/tunnel interfaces
5 virtual routers
30 security zones
1,500 max number of policies

1.9 Gbps firewall throughput (App-ID enabled)
780 Mbps threat prevention throughput
400 Mbps IPSec VPN throughput
192,000 max sessions
9,500 new sessions per second
1000 IPSec VPN tunnels/tunnel interfaces
5 virtual routers
40 security zones
1,500 max number of policies

11 Gbps firewall throughput (App-ID enabled1)
5.1 Gbps Threat Prevention throughput2
6.8 Gbps IPsec VPN throughput
1,400,000 sessions
145,000 new sessions per second3
1/11 virtual systems (base/max4)

16.9 Gbps firewall throughput (App-ID enabled1)
7.6 Gbps Threat Prevention throughput2
9.9 Gbps IPsec VPN throughput
2,000,000 sessions
205,000 new sessions per second3
1/11 virtual systems (base/max4)

20.5 Gbps firewall throughput (App-ID enabled1)
9.2 Gbps Threat Prevention throughput2
12.2 Gbps IPsec VPN throughput
2,500,000 sessions
240,000 new sessions per second3
1/11 virtual systems (base/max4)

24 Gbps firewall throughput (App-ID enabled1)
12.8 Gbps Threat Prevention throughput2
14.5 Gbps IPsec VPN throughput
3,000,000 sessions
268,000 new sessions per second3
1/11 virtual systems (base/max4)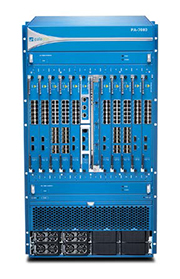 200 Gbps firewall throughput (App-ID enabled)
100 Gbps threat prevention throughput
80 Gbps IPSec VPN throughput
1,200,000 max sessions
80,000,000 new sessions per second
225 virtual routers
25/225 virtual systems (base/max)
900 security zones