Unit 42:

Intelligence driven, response ready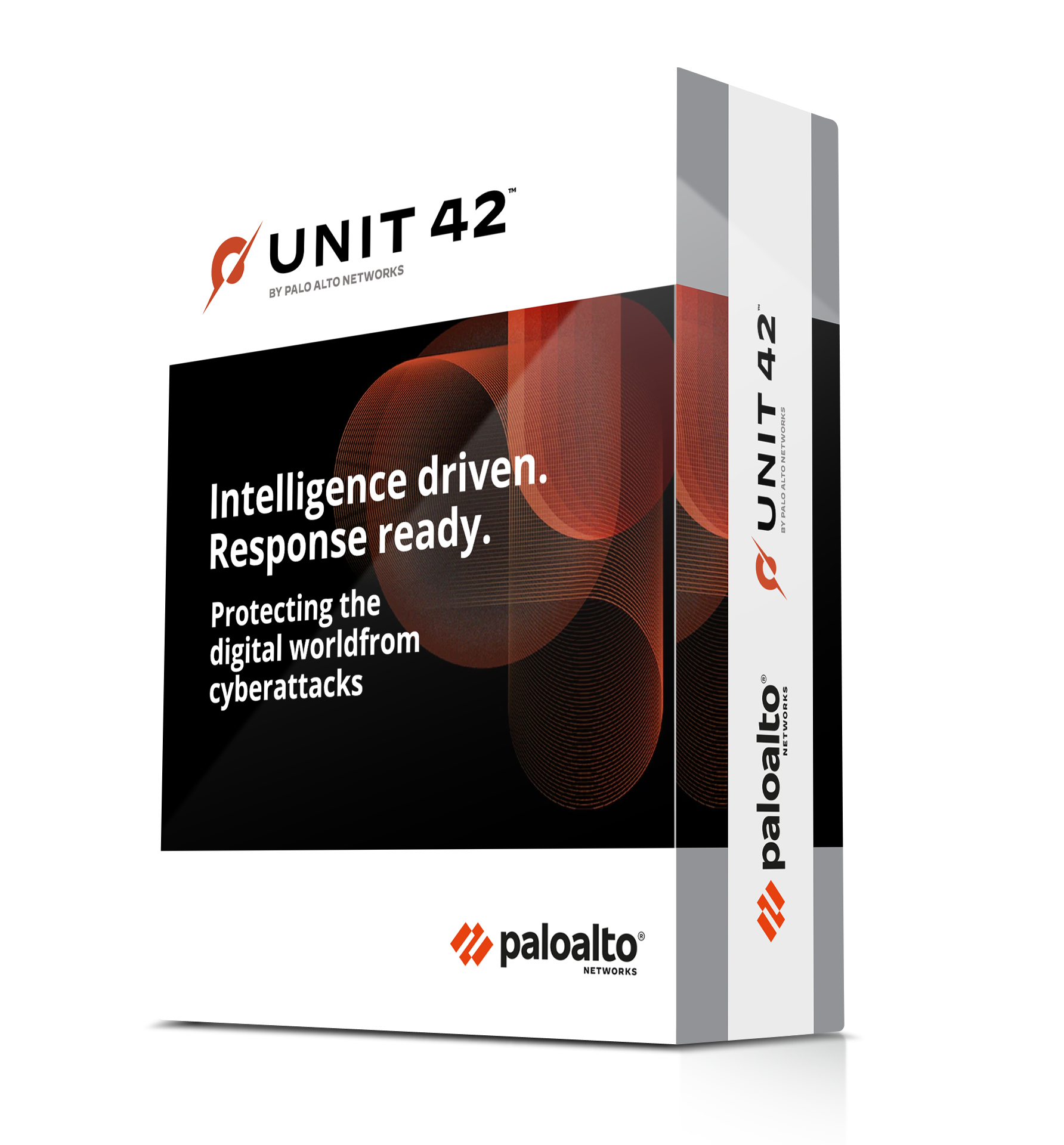 By bringing together industry-leading threat intelligence, incident response and cyber risk expertise backed by Palo Alto Networks technology, Unit 42TM has become a strategic advisor to CISOs around the globe.
Unit 42 brings together world-renowned threat researchers, incident responders and security consultants to create an intelligence-driven, response-ready organization that's passionate about helping you proactively manage cyber risk. Our team serves as your trusted advisor to help assess and test your security controls, transform your security strategy with a threat-informed approach and respond to incidents in record time.
Intelligence driven, response ready
Since 2014, the security community has relied on the Unit 42 Threat Intelligence team to stay ahead of adversaries. It's the foundation of everything we do.
Incident Response and Security Consulting
We help security leaders proactively manage cyber risk and respond to over 1,000 incidents a year, leveraging our threat intel to fully eradicate the threat.
Palo Alto Networks Products
We use Palo Alto Networks best-in-class technology to respond to complex incidents while strengthening those same products with our integrated threat intelligence.
Threat Intelligence
The security research we're known for puts threats into context, aiding our customers, products, services and the security community to defend against cyberattacks.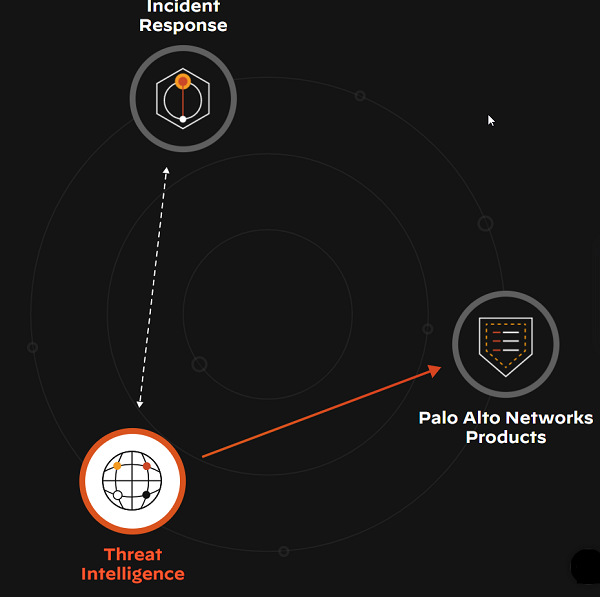 Unit 42 Managed Detectionand Response Service (MDR)
With our team of security experts, we'll detect and respond to cyberattacks whenever they occur. By bringing us in, your team can scale and focus on what matters most. Our analysts have extensive experience in quickly identifying and stopping the malicious activity most likely to impact your organization.
Industry-approved incident response : Unit 42 was recently named a strong performer in the Forrester Wave™: Cybersecurity Incident Response Services, so we know for a fact that our approach 100% aligns with industry best practices as well as our clients' best interests.
World-renowned security experts, always in your corner : As threats escalate, we act as your cybersecurity partner to advise and strengthen your security strategies. Our team of incident responders, security consultants and threat researchers help you prepare for and respond to the most challenging threats.
Security intelligence on a global scale : Actionable Threat Objects and Mitigations (ATOMS) help you automate the deployment of prevention and detection controls to protect against today's adversaries.
200+ THREAT RESEARCHERS
Our team is made up of threat analysts, threat hunters, and experts in reverse engineering, malware analysis, and threat modeling. Together, they inform our incident response and cyber risk management services to keep you ahead of the changing threat landscape.
1k+ INCIDENT RESPONSE ENGAGEMENTS A YEAR
With their experience, expertise and unique tooling, our Incident Response and Digital Forensics Services can help your team respond in record time.
30M MALWARE SAMPLES PER DAY ANALYZED
Our 10+ years of historical malware analysis – growing by over 30 million samples per day – help us stay ahead of adversaries and better protect you.
Assess your security controls
Proactively assess and test your controls against real-world threats targeting your organization, then communicate your security risk posture to your board and key stakeholders.
Services:
Compromise Assessment - Discover potential compromises, understand the impact and get mitigation recommendations by engaging with our experts. Our threat-informed approach finds historical and ongoing indicators of compromise so you can respond before any further damage occurs.

Ransomware Readiness Assessment - Defending against ransomware attacks starts with having a plan. The Unit 42™ Ransomware Readiness Assessment focuses on preparing you to better prevent, detect, respond to and recover from ransomware.

Cyber Risk Assessment - Define the current state and target state of your security maturity, identify risks and gaps. Make more informed decisions by conducting a framework-based or regulatory-focused (NIST, CIS, ISO, HIPAA, etc.) risk assessment.

Penetration Testing - Can help you simulate real-world attack scenarios that are unique to your organization's needs in order to test your detection and response capabilities and identify existing vulnerabilities in your environment before an incident occurs.

Tabletop Exercises (TTX) - Gauge your response to a real-world cybersecurity incident using lessons learned from actual Unit 42™ cases. Our consultants will use regional and industry-specific Unit 42 threat intelligence to design customized scenarios that reflect the real attacks you are most likely to see.

Purple Team Exercises - Up-level your organization's ability to effectively detect and prevent cyberthreats by collaborating with Unit 42's offensive security engineers to strategically orchestrate security testing in parallel with network monitoring and incident response processes.

Breach Readiness Review - A cyberattack can result in devastating financial costs, loss of intellectual property and a tarnished reputation. Being prepared to respond can mitigate these risks.

M&A Cyber Due Diligence - Mitigate the inherent security risk of mergers and acquisitions by conducting an independent assessment of the overall information security program currently in place at your M&A candidate.

Supply Chain Risk Assessment - Assess your cybersecurity supply chain risk management strategy, capabilities and controls. Minimize the threat of vendor-based supply chain attacks that could disrupt your business and put your reputation at risk.
Transform your security strategy
Improve your business resilience with a threat-informed approach to breach preparedness and tighter alignment across your people, processes, technology and governance.
Services:
Security Program Design - Defend your organization from a position of strength by designing a modern security program customized to your unique needs and specific threat profile.

Incident Response Plan Development and Review - Minimize the damage of a cyberattack with a battle-tested incident response plan informed by experts on the frontlines.

Expert Threat Briefing - Transform your security program with a threat-informed approach. Learn about threats targeting your organization with this customized briefing of the threat landscape or a deep dive into a specific threat, like ransomware, focused on your industry, geography or organization size.

Virtual Chief Information Security Officer (vCISO) - Engage a CISO on an interim or part-time basis to identify cyber risk and enhance your security program. You can also leverage these proven leaders after a breach to coordinate your cybersecurity response and communicate with your customers, legal and regulators.
Respond in record time
Deploy Unit 42 incident response experts to quickly investigate, eradicate and remediate even the most advanced attacks, working in partnership with your cyber insurance carrier and legal teams.
Services:
Incident Response - Unit 42 incident response experts are available 24/7 to help you quickly investigate critical security incidents and eradicate threats so that you can recover and get back to business fast.

Cloud Incident Response - Accelerate your investigation, response and recovery. As cloud adoption grows, even simple mistakes lead to outsized impact. With Unit 42

Digital Forensics - Uncover what happened on your computer systems, network and mobile devices to aid in criminal, fraud, counterintelligence or corporate investigations.

Expert Malware Analysis - Experts give you a complete picture of the threat you face and what you can do to remediate it. This knowledge is crucial in a world where sophisticated malware is often designed to evade sandboxes and automated tools.

Managed Detection and Response (MDR) - With our team of security experts, we'll detect and respond to cyberattacks whenever they occur. By bringing us in, your team can scale and focus on what matters most. Our analysts have extensive experience in quickly identifying and stopping the malicious activity most likely to impact your organization.

Managed Threat Hunting - Adversaries continually find new ways to compromise systems while staying under the radar. You need to stop them before serious damage occurs. The Unit 42 Managed Threat Hunting service helps you proactively uncover attackers wherever they hide in your infrastructure.
Over 200 global threat intelligence researchers
World-leading expertise in adversary tools, techniques, and tactics
Threat intel that enables rapid, consistent protection across products
Best practices for preventing new and unknown threats
Experts in threat research
Unit 42 is an industry-leading authority in threat research, adversary tracking and analysis, malware analysis, reverse engineering, threat hunting, and triage. Our global team of researchers provides in-depth insights into threat campaigns across various industries, regions and attack vectors.