Palo Alto Networks Enterprise Firewall PA-7050

High Speed Internet Gateway Deployments within Enterprise Environments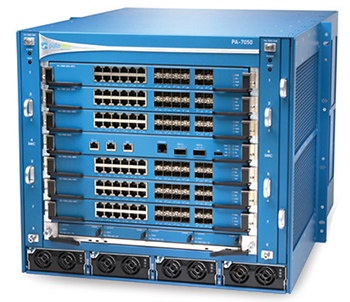 Looking for sizing recommendation? Take our Firewall Sizing Survey
Please Note: We cannot provide sizing recommendations for Palo Alto firewalls being deployed outside of the United States. Palo Alto firewalls are only available for
licensed businesses (not home users). Palo Alto firewalls cannot be sold outside of the United States excluding Canada. 1 Year minimum of Partner Enabled Backline Support is required for all new Palo Alto firewall purchases
Palo Alto Networks Products
PA-7050 Series Hardware
PA-7050 Base AC Hardware Bundle. Includes AC Chassis, 4xAC power supplies, 2xFan Trays, Fan Filter, system cards, or optional upgraded system cards
#PAN-PA-7050-AC-SYS
Get a Quote!
PA-7050 Base DC Hardware Bundle. Includes DC Chassis, 4xDC power supplies, 2xFan Trays, Fan Filter, system cards, or optional upgraded system cards
#PAN-PA-7050-DC-SYS
Get a Quote!
Partner Enabled Premium Support
Partner enabled premium support 3 year prepaid renewal, PA-7050
#PAN-SVC-BKLN-7050-3YR-R
Get a Quote!
Click here to jump to more pricing!
Overview:
The PA-7050 protects datacenters and high-speed networks with firewall throughput of up to 120 Gbps and, fullthreat prevention at speeds of up to 100 Gbps. To address the computationally intensive nature of full-stack classification and analysis at speeds of 120 Gbps, more than 400 processors are distributed across networking, security, switch managementand logging functions. The result is that the PA-7050 allows you to deploy next-generation security in your datacenters without compromising performance.
Classify all applications, on all port, all the time with App-ID.
Identify the application, regardless of port, encryption (SSL or SSH) or evasive technique employed.
Use the application, not the port, as the basis for all safe enablement policy decisions: allow, deny, schedule, inspect, apply traffic shaping.
Categorize unidentified applications for policy control, threat forensics, custom App-ID creation, or packet capture for App-ID development.
Extend safe application enablement policies to any user, at any location, with User-ID and GlobalProtect.
Agentless integration with Active Directory, LDAP, eDirectory Citrix and Microsoft Terminal Services.
Easily integrate firewall policies with NAC, 802.1X wireless, Proxies and NAC solutions.
Deploy consistent policies to local and remote users running Microsoft Windows, Mac OS X, Linux, Android or iOS platforms.
Protect against all threat—both known and unknown—with Content-ID and Wildfire
Block a range of known threats including exploits, malware and spyware, across all ports, regardless of common threat evasion tactics employed.
Limit unauthorized transfer of files and sensitive data, and control non-workrelated web surfing.
Identify unknown malware, analyze for more than 100 malicious behaviors, automatically create and deliver a signature in the next available update.
Delivering Linear Scalability and Performance
The PA-7050 achieves predictable datacenter level protection and performance by applying more than 400 function-specific processors distributed across the following chassis subsystems:
Network Processing Card (NPC): Each NPC delivers 20 Gbps of firewall performance using multi-core security optimized processors, along with dedicated high-speed networking and content inspection processors. Up to six NPCs, each with 24 traffic interfaces are supported in the PA-7050.
Switch Management Card (SMC): The SMC is comprised of three elements that are key to delivering predictable datacenter protection and performance: the First Packet Processor, the 1.2 Tbps switch fabric and the management subsystem.

First Packet Processor (FPP): The FPP utilizes dedicated processing to apply intelligence to the incoming traffic, directing it to the appropriate processing resource to maximize throughput efficiency.
High Speed Switch Fabric: The 1.2 Tbps switch fabric means that each NPC has access to approximately 100 Gbps of traffic capacity, ensuring that performance and capacity will scale in a linear manner as NPCs are added to the PA-7050.
Management Subsystem: Unified point of contact for managing all aspects of the PA-7050.

Log Processing Card (LPC): The LPC uses multi-core processors and 2TB of RAID 1 storage to offload the logging related activities without impacting the processing required for other management related tasks. The LPC allows you to generate on-system queries and reports from the most recent logs collected or forward them to a syslog server for archiving or additional analysis.
The PA-7050 delivers performance and scalability by intelligently applying all available networking and security processing power to application layer traffic classification and threat protection tasks. Orchestrating this ballet of session management tasks is the First Packet Processor which constantly tracks the shared pool of processing and I/O resources across all of the NPCs. When the FPP determines that additional processing resources are available, traffic is intelligently directed across the high-speed switch fabric to that location, even if it resides on a separate NPC. The FPP is the key to delivering linear scalability to the PA-7050, working in conjunction with each of the network processors on the NPCs to utilize all of the available computing resources as a single, cohesive system. This means that as NPCs are added, no traffic engineering changes are required in order to utilize the added capacity.
The controlling element of the PA-7050 is PAN-OSTM, a securityspecific operating system that natively classifies all traffic, inclusive of applications, threats and content, then ties that traffic to the user, regardless of location or device type. The application, content, and user—the elements that run your business—are then used as the basis of your security policies, resulting in an improved security posture and a reduction in incident response time. All traffic classification, content inspection, policy lookup and execution are performed in a single pass. The single pass software architecture, when combined with the processing power of the PA-7050, ensures that you achieve predictable throughput.
Pricing Notes:
Pricing subject to change without notice.
Pricing is based on approved deal registration
We cannot provide sizing recommendations for Palo Alto firewalls being deployed outside of the United States.
Palo Alto firewalls are only available for licensed businesses (not home users). Palo Alto firewalls cannot be sold outside of the United States excluding Canada. 1 Year minimum of Partner Enabled Backline Support is required for all new Palo Alto firewall purchases
Palo Alto Networks Products
Requires PAN-OS 9.0 or higher. Only available as part of a configured system bundle, not sold separately
Requires PAN-OS 8.1.5 or higher, must be paired with PA-7050-FANTRAY-R-A
Requires PAN-OS 8.1.5 or higher, must be paired with PA-7050-FANTRAY-L-A
Necessary accessory for use with PA-7050-DC systems deployed in regions requiring ETSI 300 386 Conducted Emission voltage class A compliance.
Requires PAN-OS 9.0 or higher
Requires PAN-OS 10.0 or higher
Requires PAN-OS 9.0 or higher. Only available as part of a configured system bundle, not sold separately
Formatted boot media, loaded with PAN-OS, 4800G capacity, for use with the 1st generation switch management card (SMC); PAN-PA-7050-SMC, PAN-PA-7050-SMC-SYS, PAN-PA-7080-SMC, PAN-PA-7080-SMC-SYS. NOT FOR USE WITH SMC-B, INCOMPATIBLE WITH PAN-PA-7050-SMC-B and PA-7080-SMC-B
NOTE: only models or series cited are supported, unlisted models or series are not supported
NOTE: only models or series cited are supported, unlisted models or series are not supported
NOTE: only models or series cited are supported, unlisted models or series are not supported
NOTE: only models or series cited are supported, unlisted models or series are not supported