Okyo Home

Securing the Home Front
In 2020, malware and ransomware more than tripled, and phishing attacks grew to an average of 400 per household.
Okyo Garde is designed to stop them. Okyo Garde is: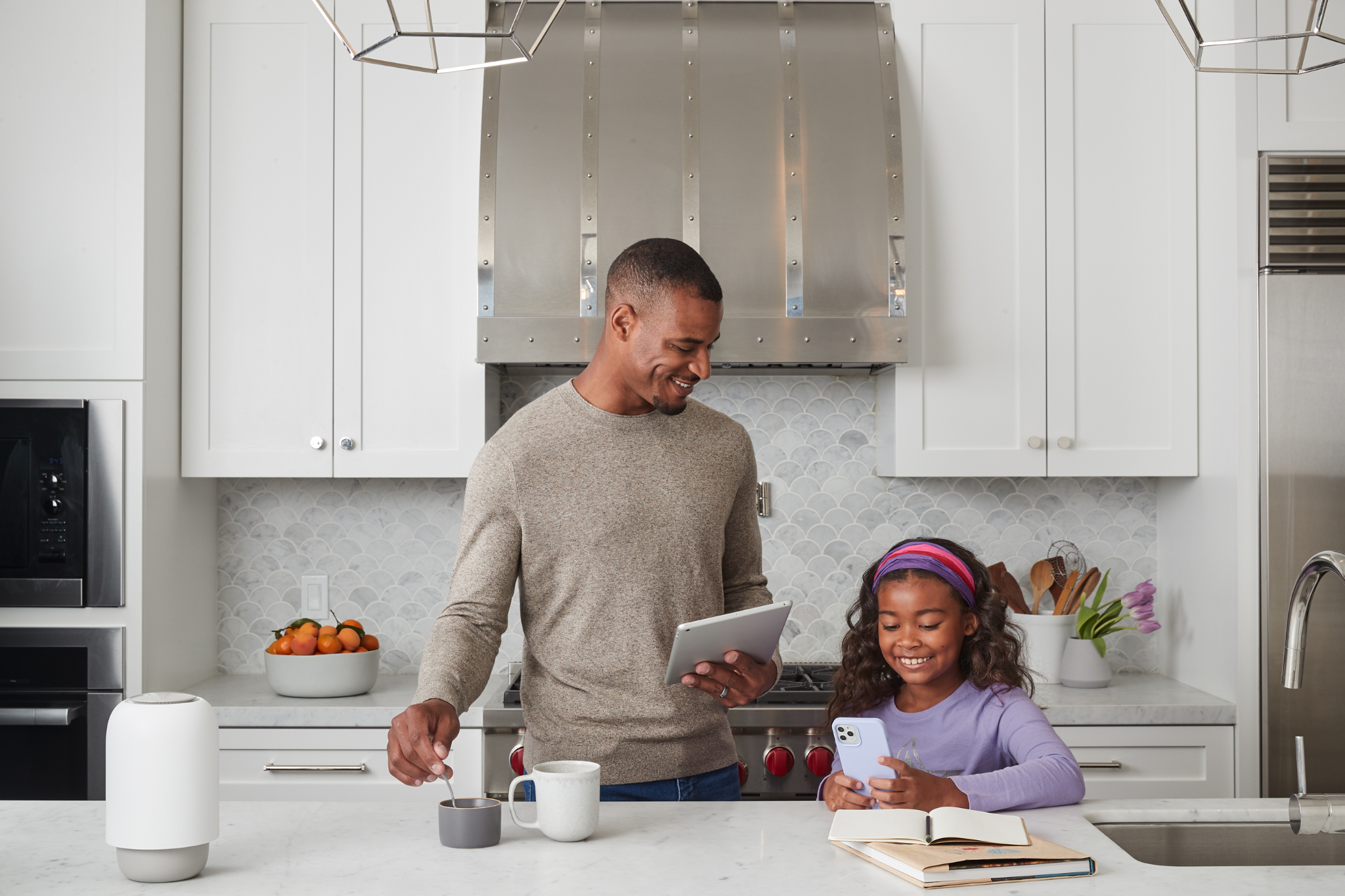 ---
Palo Alto Products
What is Okyo Garde?
Okyo Garde is a new service from Palo Alto Networks that combines enterprise-grade cybersecurity with consumer simplicity. Okyo Garde is a state-of-the-art mesh-enabled WiFi and security system that protects the people and smart-devices (IoT) in your home or small office from malware, phishing, viruses, and other malicious activity.
Okyo Garde is sold as a subscription service to protect all your connected devices for one flat annual fee that auto-renews each year thereafter. Each Okyo Garde subscription includes the mesh-enabled router (hardware), advanced security protection, and a mobile app for you to control everything on your network.
Okyo Garde is incredibly simple to set up and use. No tech degree or security team is required.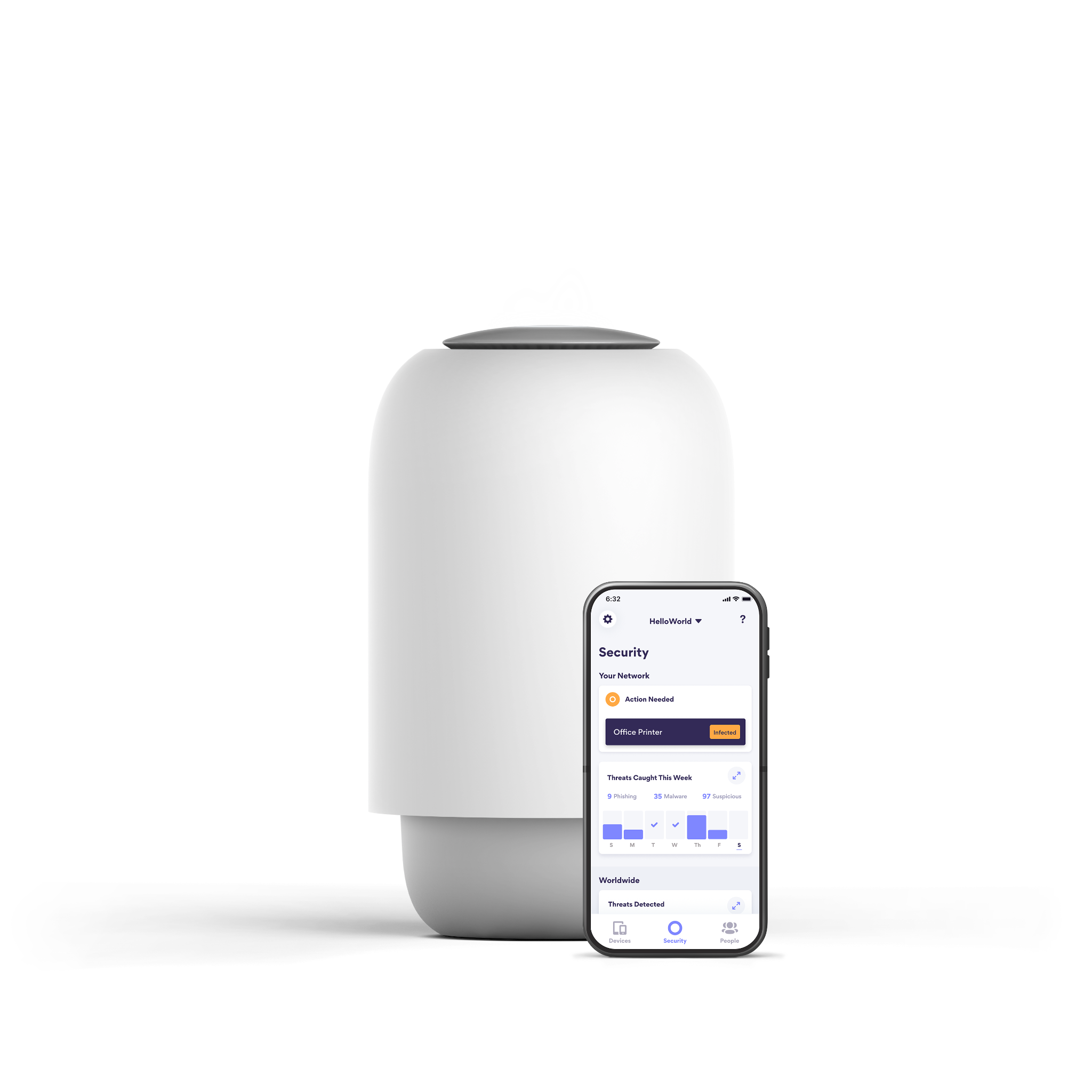 Meet Okyo Garde, a Cybersecurity offering for Homes and Small businesses.
Why Do You Need Okyo Home?
You're tricked into clicking on a phishing link:
Cybercriminals use well disguised fake emails or phone numbers that bait you into clicking through to malicious websites to provide sensitive information like, passwords, account numbers, or credit card details. And just like that, they take over your accounts. Okyo Garde keeps an innocent click from becoming stolen information by preventing the connection to the malicious website from ever happening
An online ad contains malware and ends up costing you:
There's a lot of talk nowadays about "ransomware." These types of attacks can start in the places you least expect. Those sites can then download ransomware to your computer, which, as the name implies, can encrypt your data until you agree to pay a big sum of money to have it unlocked. Okyo Garde can protect you by preventing the malicious code in the ad from downloading on your device.
Your smart TV catches a virus:
Our homes are becoming "smarter" through more and more devices connecting to the internet. Unfortunately, those connections offer an opportunity for cybercriminals. Okyo Garde makes your smart TV and all of the connected devices in your home more secure by preventing them from connecting to malicious actors on the open internet, so you can watch your TV without it watching you.
You're working from home and you disable your VPN:
You may want to access a job site without your employer knowing it, and accidentally end up downloading a file. The downloaded file could infect your work computer and that infection can then move to your corporate systems. Okyo Garde prevents the connection to the attacker even if the work VPN is disabled on the computer, keeping both you and the company safe.
Okyo Garde Subscriptions:
Each Okyo Garde subscription includes the mesh-enabled router (hardware), advanced security protection, and a mobile app for you to control everything on your network. All Okyo Garde subscriptions include:
Premium mesh-enabled WiFi from a top-of-the-line Okyo Garde router
Blocking of malware, phishing, suspicious activity, and IoT device threats from all network-connected devices
Actionable security alerts, with plain-English remediation guidance
Easy set-up and control from the Okyo Garde mobile app
Ongoing upgrades with new security, networking and control features.
Our "Plus" and "Pro" tier subscriptions offer additional features like parental controls, ad-blocking, and Pro includes no limit on the number of connected devices.
Okyo Garde Specifications:
Comman Features

Comman Features Across All Subscriptions:

Malware Prevention
Ransomware Prevention
Phishing Prevention
Device Security
Prevents Remote Attacks
Suspicious Online Activity Monitoring
Fast WiFi 6 Performance and Coverage

Software Specifications

Wi-Fi

Wi-Fi 6, 802.11ax AX6000 Tri-Band 4x4 MIMO
Mesh-enabled (up to 6 mesh nodes)
Coverage of up to ~3000 sq. ft. with a single Okyo device

Processor

Quad-Core 2.2 GHz

Ethernet Ports

1x 2.5 Gbps
2x 1 Gbps

Security Performance

Support for up to 1 Gbps of internet bandwidth with full security

Mobile app

Business owner manages business network via a mobile app on Apple iOS and Android

Security Capabilities

Malware, Ransomware, and Phishing Prevention
Prevents Remote Attacks
Suspicious Online Activity Monitoring
IoT and Smart Device Security


Hardware Specifications

Hardware Technical Specs

Cybersecurity natively integrated with hardware
Mesh-enabled WiFi Coverage
AX6000 Tri-Band WiFi 6
Powerful Quad-Core 2.2GHz Processor
Large memory configuration for security & performance
8 Antennas
MU-MIMO capable beamforming
3 Ethernet ports
Okyo Garde App (iOS & Android)
Automatic over-the-air updates
Want to Learn More about Okyo Home? Contact a Palo Alto Networks Specialist today!