Palo Alto Networks Aperture

Safely Enable Your SaaS Applications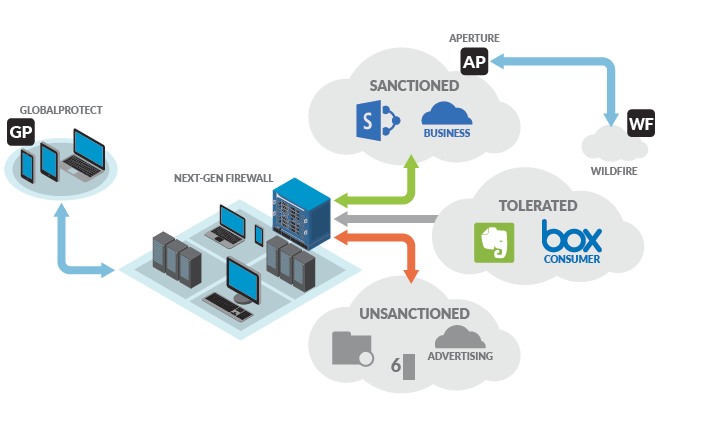 Sorry, this product is no longer available, please contact us for a replacement.
Overview:
The use of SaaS applications is creating gaps in security visibility and new risks for threat propagation, data leakage and regulatory noncompliance.
Challenge
Gain visibility and control of SaaS usage to prevent threat propagation and data leakage.
Solution
Palo Alto Networks® has established a rich history of safely enabling applications by helping IT organizations secure these higher risk, unsanctioned services through superior classification and granular policy control across the network. Aperture™ SaaS security service adds to the Palo Alto Networks Next-Generation Security Platform, providing a unique approach to securing sanctioned SaaS applications. Aperture adds complete visibility across all user, folder and file activity within the SaaS application and provides detailed analysis and analytics on usage to prevent data risk and compliance violations. Even more importantly, it allows granular context- aware policy control within these SaaS applications to drive enforcement and quarantine of users and data as soon as a violation occurs. Integration of Aperture with Palo Alto Networks WildFire™ cloud-based threat analysis service prevents known and unknown threats from spreading through the sanctioned SaaS applications, preventing a new insertion point for malware.
The concept of data residing only in a single centralized location does not apply in today's modern networks. Organizations now have data spread throughout multiple locations, including many that are not under their control. Regardless of the location of the data, the IT team is still responsible for securing it as it moves. This is the most visible when it comes to SaaS applications. The use of these applications is hard to control or have visibility of once the data has left the network perimeter. This presents a significant challenge, with end users now acting as their own IT departments that have control over the applications they use and how they use them but without the expertise on data or threat risk assessment and prevention. Without the right tools to enable visibility into data exposure and threat insertions, even skilled users with security experience can run into problems with SaaS applications.