Palo Alto Networks Enterprise Firewall PA-7000-20GXM-NPC

High Speed Internet Gateway Deployments within Enterprise Environments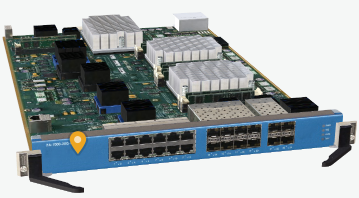 Sorry, this product is no longer available. Please Contact Us for more information.
Overview:
Redefining high-performance network security, the PA-7000 Series of next-generation firewall appliances offers the perfect blend of power, intelligence and simplicity. Power, derived from a proven architecture, blends ultra-efficient software with nearly 700 function-specific processors for networking, security, content inspection and management. Its intelligence maximizes security-processing resource utilization and automatically scales as new computing power becomes available. The PA-7000 Series offers simplicity defined by a single-system approach to management and licensing.
Key Security Features:
Classifies all applications, on all ports, all the time
Identifies the application, regardless of port, encryption (SSL or SSH), or evasive technique employed.
Uses the application, not the port, as the basis for all of your safe enablement policy decisions: allow, deny, schedule, inspect and apply traffic-shaping.
Categorizes unidentified applications for policy control, threat forensics or App-ID™ development. Enforces security policies for any user, at any location
Deploys consistent policies to local and remote users running on the Windows®, MacOS™, Linux®, Android®, or Apple® iOS platforms.
Enables agentless integration with Microsoft® Active Directory® and Terminal Services, LDAP, Novell® eDirectory™ and Citrix®.
Easily integrates your firewall policies with 802.1X wireless, proxies, NAC solutions, and any other source of user identity information. Prevents known and unknown threats
Blocks a range of known threats, including exploits, malware and spyware, across all ports, regardless of common threat-evasion tactics employed.
Limits the unauthorized transfer of files and sensitive data, and safely enables non-work-related web surfing.
Identifies unknown malware, analyzes it based on hundreds of malicious behaviors, and then automatically creates and delivers protection.
Threat prevention throughput is measured with App-ID, User-ID, IPS, antivirus, anti-spyware and Disable Server Response Inspection(DSRI) features enabled
Throughput is measured with 64Kb HTTP transactions
Connections per second is measured with 4Kb HTTP transactions
| Performance and capacities | PA-7080 system | PA-7050 system | PA-7000 NPC | PA-7000 NPC-XM2 |
| --- | --- | --- | --- | --- |
| Firewall throughput (App-ID enabled) | 200 Gbps | 120 Gbps | 20 Gbps | 20 Gbps |
| Threat prevention throughput (DSRI Enabled) | 160 Gbps | 100 Gbps | 16 Gbps | 16 Gbps |
| Threat prevention throughput | 100 Gbps | 60 Gbps | 10 Gbps | 10 Gbps |
| IPsec VPN throughput | 80 Gbps | 48 Gbps | 8 Gbps | 8 Gbps |
| Max sessions | 80,000,000 | 48,000,000 | 4,000,000 | 8,000,000 |
| New sessions per second | 1,200,000 | 720,000 | 120,000 | 120,000 |
| Virtual systems (base/max1) | 25/225* | 25/225* | – | – |
1 Adding virtual systems to the base quantity requires a separately purchased license.
2 Network processing card with enhanced session capacity.