Palo Alto Networks Enterprise Firewall PA-5220

No Compromise Security, High-Performance Versatility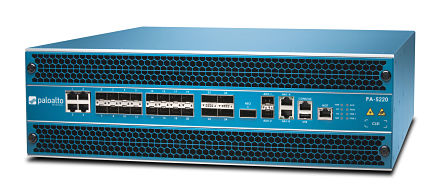 RENEWALS ONLY (This product can no longer be purchased as new firewall)
Looking for sizing recommendation? Take our Firewall Sizing Survey
Please Note: We cannot provide sizing recommendations for Palo Alto firewalls being deployed outside of the United States. Palo Alto firewalls are only available for
licensed businesses (not home users). Palo Alto firewalls cannot be sold outside of the United States excluding Canada. 1 Year minimum of Partner Enabled Backline Support is required for all new Palo Alto firewall purchases
Palo Alto Networks Products
PA-5220 Series Hardware
Palo Alto Networks PA-5220 with redundant AC power supplies
RENEWALS ONLY (This product can no longer be purchased as new firewall)
#PAN-PA-5220-AC
Get a Quote!
Click here to jump to more pricing!
Overview:
Key Security Features:
Classifies all applications, on all ports, all the time
Identifies the application, regardless of port, encryption (SSL or SSH), or evasive technique employed
Uses the application, not the port, as the basis for all of your safe enablement policy decisions: allow, deny, schedule, inspect and apply traffic-shaping
Categorizes unidentified applications for policy control, threat forensics or App-ID™ application identification technology development
Enforces security policies for any user, at any location
Deploys consistent policies to local and remote users running on the Windows®, Mac® OS X®, Linux®, Android™ or Apple® iOS platforms
Enables agentless integration with Microsoft® Active Directory® and Terminal Services, LDAP, Novell® eDirectory™ and Citrix®
Easily integrates your firewall policies with 802.1X wireless, proxies, NAC solutions, and any other source of user identity information
Prevents known and unknown threats
Blocks a range of known threats, including exploits, malware and spyware, across all ports, regardless of common threat-evasion tactics employed
Limits the unauthorized transfer of files and sensitive data, and safely enables non-work-related web surfing
Identifies unknown malware, analyzes it based on hundreds of malicious behaviors, and then automatically creates and delivers protection
The controlling element of the PA-5200 Series is PAN-OS®, security operating system, which that natively classifies all traffic, inclusive of applications, threats and content, and then ties that traffic to the user, regardless of location or device type. The application, content and user – in other words, the business elements that run your business – are then used as the basis of your security policies, resulting in an improved security posture and a reduction in incident response time.
| | | | |
| --- | --- | --- | --- |
| Performance and Capacities1 | PA-5260 | PA-5250 | PA-5220 |
| Firewall throughput2 (App-ID enabled) | 72.2 Gbps | 35.9 Gbps | 18.5 Gbps |
| Threat prevention throughput3 | 30 Gbps | 20.3 Gbps | 9.2 Gbps |
| IPsec VPN throughput | 21 Gbps | 14 Gbps | 5 Gbps |
| Max sessions | 32,000,000 | 8,000,000 | 4,000,000 |
| New sessions per second4 | 458,000 | 348,000 | 169,000 |
| Virtual systems (base/max5) | 25/225 | 25/125 | 10/20 |
Performance and capacities are measured under ideal testing conditions.
Firewall throughput measured with App-ID and User-ID features enabled utilizing 64K HTTP transactions
Threat prevention throughput measured with App-ID, User-ID, IPS, AntiVirus and Anti-Spyware features enabled utilizing 64K HTTP transactions
New sessions per second is measured with 4K HTTP transactions
Adding virtual systems base quantity requires a separately purchased license
Pricing Notes:
Pricing subject to change without notice.
We cannot provide sizing recommendations for Palo Alto firewalls being deployed outside of the United States.
Palo Alto firewalls are only available for licensed businesses (not home users). Palo Alto firewalls cannot be sold outside of the United States excluding Canada. 1 Year minimum of Partner Enabled Backline Support is required for all new Palo Alto firewall purchases
Palo Alto Networks Products
PA-5220 Series Hardware
Palo Alto Networks PA-5220 with redundant AC power supplies
RENEWALS ONLY (This product can no longer be purchased as new firewall)
#PAN-PA-5220-AC
Get a Quote!